Billings Senior High School
Class of 1967
In Memory
Sally Mullen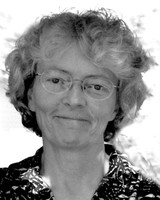 MISSOULA – Sally Mullen retired from Planet Earth on Sunday, Nov. 22, 2015. Comforting her toward her final breath were her longtime partner and soulmate Terry Kendrick, sister Rozzy, and loyal cat Jackson. Sally often joked and was teased about her penchant for repeatedly retiring. Although retirement was a long-held career goal, for decades she offered services to her community, willing to trouble-shoot for faltering organizations – some small businesses and governmental agencies, but mostly nonprofits whose ideals were close to Sally's heart. She applied her innate talents and self-taught skills to YWCA Missoula, Blue Mountain Clinic (three different stints, including the rebuild after the 1993 firebombing), Mountain Line, Missoula Developmental Service Corporation, Garden City Harvest, Missoula Demonstration Project, Life's End Institute, WORD/WEDCO, the Missoula Public Library, the Office of Planning and Grants, and others.
Sally was an unlikely fixer. According to Sally, she majored in Eddie's Club (now Charlie B's) in college and dropped out twice. In her twenties, she taught herself bookkeeping, guiding such early Missoula legends as Luke's Bar and Freddy's Feed and Read toward healthier financial footing. Soon it became apparent that fixing these messes – whether as consultant, manager, or CEO – was her calling. She began each project by patiently and respectfully interviewing all people involved: board members, directors, managers, and especially the staff engaged in the difficult frontline work. Then came retreats, inclusive brainstorming sessions, rewritten job descriptions, efforts to tamp down egos and to embolden everyone to strive toward the common goal. Her remarkable powers of observation, listening skills, fascination with human interaction, astute interpretation of the sources of problems, ability to imagine improvement, and courage to push for change enabled her to help, even save, numerous organizations. She built a reputation as the person who could and wanted to tackle the biggest challenges, to "right the ship." To Sally's delight, Terry suggested she develop a professional website: "sally@f#!&kedup.org." Sally seldom actually sought a job; jobs found her. She trusted the Universe to deliver both purposeful work and sustenance. A cherished perk of her career was cultivating robust relationships with numerous colleagues, many of whom became lifelong friends. Mayor John Engen proclaimed Nov. 6, 2015, Sally Mullen Day to honor her dedication and extraordinary contributions to our community. On that day, over 200 people attended a celebration for and with Sally, many attesting to her profound, positive influence on their lives. The event, which Sal jokingly called her "Premorial," illuminated how many people's lives she had touched with her brilliance, compassion, and irreverent humor. Lifted and humbled by the outpouring of love and support, Sally was visibly glowing during the event and for days afterwards. She requested that no other service be held.
Professionally, metaphorically, and on actual streets and highways, Sally favored taking the "long cut," the circuitous route, the backroad that might unveil surprises and opportunities to encounter something unexpected. Though she enthusiastically traveled to different parts of the world, Sally especially enjoyed long, loopy road trips – stopping to see friends, to visit an art gallery, to examine bird, beast, and landscape through her ever-present binoculars. Since childhood Sally habitually hauled rocks and shells home from her travels, sweet reminders of her adventures and the magic of Mother Nature. These found treasures connected her viscerally and visually to people and places she loved.
With a keen eye for strays, strugglers, and diamonds in the rough, Sally reached out to other humans all her life with authentic curiosity, trust, hope, open ears and heart. She was a genius in the field of friendship. Whether she met people in school, at AA, Unity Church, through work, or in some random way, she saw promise in them even when they didn't see it in themselves. She was especially smitten with quirky, smart oddballs. If you are reading this and recognize the pattern, know that you are among her treasured friends. Sally considered herself incredibly lucky that she and Terry found each other. They lived, played, worked together, traveled, counseled, and loved each other for almost three decades in such a radiant way that all who knew them felt it and marveled. Included in their Circle of Familiars are the cats Jackson and Baby Kitty.
Born in Billings, the youngest child of Mary Alice Reynolds and Leslie Vig Mullen, Sally loved Montana and claimed it as home. She amused, challenged, and was boundlessly devoted to her siblings: the late Pete Mullen and his wife Mary, Guil and his wife Donna, Rosalind Hudgens and her husband John States. She relished her role as Aunt Sally to her nieces, nephews, and their children. Aunt Sally supported their efforts to find their own way, taught them things their parents could not, and loved them unconditionally. She deliberately made time to "hog each one to herself," convincing each that he or she was her favorite.
Sally pursued spirituality using the same winding, whimsical M.O. of her road trips, in her fifties becoming an ordained interfaith minister. She eloquently performed numerous weddings, commitment ceremonies, celebrations of life – always entwining wisdom and compassion with humor. It was not unusual to hear people exclaim after events she officiated that they had never experienced such a perfect wedding or memorial. She mindfully continued her spiritual search, practicing gratitude and non-judgment, even in her final days pondering and discussing what might lie ahead. She expressed intrigue about the possibility that all life forms come from energy and after death return to Divine Energy. Her inquisitive mind playfully noticed the recurring theme of reincarnation in many world religions. Pay close attention to your cats; Sally's spirit may be lingering there.
In her remarks at the Nov. 6 event, Sally said: "Cancer is not the worst thing that's ever happened to me. Being untrue to myself, hiding my light under a bushel, doing things because I thought that's what other people thought I should do, thinking I should be able to fix things over which I had no control – those are the tragedies that are so harmful and take so much effort to change. My job was to become the best Sally I could, and I think I batted fairly well, especially as I aged. The result is that I'm at peace with my future." Sally was profoundly grateful for the love, support, and many acts of kindness she received throughout her life, particularly in this last year.
A poem written by Sally Mullen:
DITTO
With cannons perched upon this rocky ridge
And mortars placed below, beside the road,
The battle rages – slowly, slowly –
Until the enemy is reduced to blood.
Leafing through these sun-parched pages,
I understand at once the entire plan:
Masses of enemy soldiers pitted
Man against common man.
What eyes have seen this text, I wonder,
Or minds conceived the endless plot
Retold in these pages, Purges, battles,
Toil, suffering – one small chapter that
Does not differ much from all the others.
Oh how I marvel at man's ingenuity
At rationalizing mass murder
Into his benevolent duty.