Billings Senior High School
Class of 1967
In Memory
Grant Lamport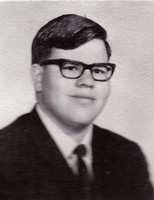 In Memory Grant Edward Lamport

The chilly evening rain brings me my nothingness that I wish for
but the rain-is seldom and I am often ...
Grant E. Lamport 1949-1991 copyright 1967

I was driving east on Pine in Missoula when I spied Dave Thomas marching along. I pulled over and jumped out and jammed a pile of Portable Walls into his hands. He looked startled. Oh no, I'm thinking, action without preparation only frightens and repels. - Dave humored me and graciously accepted the Walls. He explained that he was headed for a meeting where people who knew and admired and loved Grant Lamport were going to gather. In the vicinity of the Catholic church, Dave said. Mark Fryberger had called me the previous week to tell me of Grant's death. He had been friends with Grant from childhood. They had clowned in various classes in high school. You know how good those kinds of friends are. They help you cope with the world because they are cool and .just plain fun. Then when I got to Missoula to visit my son Todd I stopped at Dirk's who also grew up with Grant. Dirk and Grant went through a lot together and Dirk was in shock. That's when I left and I was driving down Pine and saw Dave Thomas, as I said. After visiting with Dave Thomas for a couple of minutes I dropped the car off at Todd's and hiked over to that church. I don't remember ever having met Grant Lamport but the whole 6 Letters & Health Hints town seemed to be at the church to comfort each other. I remember thinking that Missoula really does have a counter-culture. The basement of the Catholic church had lots of people I remember having seen but never before meeting. But I saw Frank Sonnenberg. Remember Frank? Frank was one of the founders of the rock and roll group, "Golden Floaters." Frank ran a pizzeria at Luke's Bar in Missoula. He and Grant and - others had explored the wilderness in Western Montana. Sally Mullen was there. In about the time it takes to tell this somebody had us join hands in a circle. Several people, including his son, remembered some good and also some bad times. Made me wish I had gotten to know Grant because he loved adventures.
Dirk Lee