Billings Senior High School
Class of 1967
In Memory
Sandra West (Goldberg)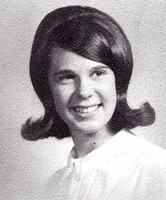 BIRTH: March 6, 1949, Billings MT
DEATH: August 28, 1991
Sedalia Colorado:
Sandi West Goldberg, 42, daughter of John and Lois West, sister of Nancy Martin, Barbara Murphy and Jock West passed away of August 28th of cancer.
Professionally, Ms. West Goldberg was a respected speech pathologist and early childhood special educator. She was a pioneer in developing services for young and at-risk children in the early 1970's. She was an active team member with the Sewell Early Education Development Program, a nationally recognized model program for young children with disabilities and their families. In the Cherry Creek school district near Dencer, CO, she spent 15 years, first as a team member of the Early Education Program and then as coordinator of early childhood special education programs. Among the honors Ms. West Goldberg received were the Chan Carman Memorial Award for her outstanding contributions to the mental health of children and the governor's award for oustanding service to the children and families of the state of Colorado. She was a national speaker and consultant in the field of early childhood education. In addition to her career accomplishments, she was president of the cooperative preschool her children attended and a Colorado State University master gardener.
Ms. West Goldberg was born March 6, 1949 in Billings. She graduated from Senior High School where she participated in many community activities. She attended Whitman College in Walla Walla, WA and was a member of The Kappa Alpha Theta sorority. She went on to earn her master's degree in speech pathology at the University of Denver. She married Hal Goldberg on Sept. 27, 1980. Their children are Shauna, 9, and Alyssa, 7.
Ms. West Goldberg's family remember her as a deeply loving woman with an exceptional zest for lifenwho was, for them, both a maevel and a model.