Billings Senior High School
Class of 1967
In Memory
Fred Urbaska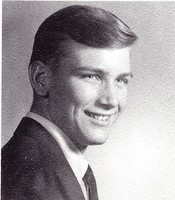 From the Billings Gazette, December 19, 1997
FREDRICK JOHN URBASKA
August 27, 1949 - December 18, 1997
"Life lost one of its favorite champions…." Wrote Fredrick J. Urbaska in the obituary for his daughter, Mandy, and truer words could not have been spoken for his own life. Early Thursday morning, Dec. 18, 1997, Fred passed on from complications after heart surgery.
Words cannot begin to convey the sense of loss that this community feels for one of its greatest supporters. Born and raised in Billings, Fred's love and commitment to his hometown reached far and wide… From a love of sports, and baseball in particular, to the arts and education. Fred embraced these areas with his whole heart and soul. His creativity, insight, financial support and most importantly his enthusiasm touched us all deeply. Never without a smile, hearty laugh, and a wonderful story or joke. Fred spent a lifetime loving, caring and nurturing his family, friends and community.
Fred's sense of community was large and unreserved. His community included most intimately his immediate family for whom his love was steadfast and unending, and it reached the distant shortes of foreign lands where he could converse fluently in French with the high school students he taught in Beauravis France as a Fulbright Scholar. He loved to learn and was a model student of how to continue learning long after the classroom education was finished. He greatly admired Albert Schweitzer and Teddy Roosevelt and quoted both of them: "Walk softly and carry a big stick. That will take you far" he would often tell others. He was the perfect example of a "Can Do" kind of guy. There was nothing he couldn't do when he set his mind to it. Once the vision was set, for whatever the project was, with boundless and tireless energy. Fred would phone call, write letters or do whatever it would take to make sure the job got done well and right. And that's exactly how he accomplished so many of the incredible works and projects he did in his all-too-short lifetime.
While the list of accomplishments listed below convey the magnitude of his generous spirit, he will be remembered most fondly for the simplest of pleasures he most enjoyed: watching his son fly fish, beaming at his daughter as she cheered at the high school games, dancing with his wife in the living room and telling a story to his folks or to any one of his many, many friends and acquaintances. One of his finest talents and gifts he offered to all of us was to make us laugh, and warm our hearts. Simply put, Fred was an original. And at this precious Christmas time, we are all so grateful that our lives have been deeply enriched by his presence.
Fredrick J. Urbaska was born in Billings, Aug 27, 1949. In 1967 he graduated from Billings Senior High, having been named Outstanding Young Man in Montana by the American Academy of Achievement. He continued his education at Wabash College in Crawfordsville, Indiana, completing a BA in French and history in 1971. That year he also married Maile Meeks of Muncie, Indiana. In 1972 he was awarded a Fulbright Fellowship to study in Beauravis, France, where their daughter Mandy was born in 1973. Son John was born in Muncie in 1975. Fred earned an MA in special education from Ball State University in 1977 and a second MA in cognitive development from Northwestern University in 1979. He had completed all but his dissertation toward his PhD when their daughter Katie was born in 1979 and the family returned to Montana.
Fred and his business, Fredrick J. Urbaska Investments, supported many aspects of the Billings community and Public Schools and honored as a Paul Harris Fellow by Rotary International. Twice he won the prestigious Commitment Award for Business in the Arts from Forbes Magazine and the Business Committee for the Arts in New York City. He and Maile attended the BCA's Thirtieth Gala Celebration in New York City this October where Fred was honored to meet David Rockefeller, Jr.
Fred has supported the arts since 1971. At the Billings Studio Theatre he initiated the Urbaska Fund, which awards tickets to school children, and the "Spirit of Billings Studio Theatre Award" which honors the heater's Outstanding Volunteer of the Year. At the Yellowstone Art Museum, he sponsored a public exhibition, contributed to the Education Department, developed a new suitcase art program and helped with annual operating expenses. Since the early 1980's Fred has underwritten the weekly two-hour broadcast of a national symphony orchestra at KEMC Public Radio. He also issues challenge grants during fund-raising marathons and contributed toward the purchase of a new Yamaha baby grand piano and new transistor stations. The Alberta Bair Theater and the Billings Symphony Orchestra Chorale have also enjoyed Fred's generosity for many years.
At a local grade school, Fred anonymously provides each classroom with a Christmas tree every year. He donates to libraries across town and has established several scholarships and awards in memory of his daughter, Mandy. Many students have received his assistance so they might experience a foreign environment or gain a direct exposure to the arts.
Fred is also very generous with many organization in Billings, including Family Services, Family Support Network, Salvation Army, Yellowstone Search and Rescue, Boy Scouts, Montana Rescue Mission, Boys and Girls Club and several churches. Several years ago Fred and his business sponsored an important fund-raiser, The Day of the Legends. Five Hall of Fame football players, Johnny Unitas, Roger Staubach, Mike Ditka, Walter Payton and Tony Dorsett, came to Billings for a day of activities benefitting Special K Ranch and the youth of Billings.
Fred's love of baseball and young ball players is evident in his support of the Little League Challenger and Legion programs and through the development and maintenance of Fred Urbaska Field. Each year he sponsors six or seven teams and contributes to field development at several fields across town. His restoration of the Big Sky Little League field at 17th and Poly Drive has transformed a "weed box" into a "Field of Dreams". He named the field Urbaska Field to honor his grandfather, father, and son.
Fred's quite generosity was felt in many places throughout our community and region. He reminded us of the meaning of philanthropy - the desire to help mankind. He said recently, "If there's a source of motivation, it's what I think we all feel within us. If we are lucky enough, and I sure have been in my life, we must do our part."
Fred is survived by his wife, Maile, his son, John, his daughter, Katie, and his parents, John and Ruth, all of Billings; his sister, Jane L. Summerfield and her family, husband David and children Leif and Jehen of Bozeman; his sister, Jerri Balsam and her family, husband John W and children Jessica and Joseph of Missoula; and his brother, James S and his wife Diana Mudgett of Newfane, VT. He was preceded in death by his daughter, Mandy, in 1992.
He is equally survived by the many, many individuals, young and old, he counted as his friends in all parts of this work from the boardrooms to the ball yards.