Billings Senior High School
Class of 1967
In Memory
Bob Scheid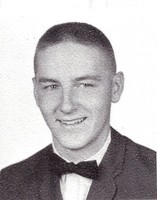 Robert Scheid, 18-year old son of Mr. and Mrs. Albert W. Scheid, 2133 11th St W., died at a Billings hospital Sunday night, May 21, 1967, after a nine-month illness.
He was born November 6, 1948, in Billings, and had lived here since. He was a senior at Billings Senior High School and member of American Lutheran Church.
Besides his parents, he is survived by a brother John A. Scheid of San Francisco and a sister Mary Margaret of the family home.
Funeral services will be conducted Wednesday at 10:30 a.m. at the American Lutheran church by the Rev.Gordon V. Tollefson. Burial will be at Sunset Memorial Gardens.