Billings Senior High School
Class of 1967
In Memory
Suzanne Scanlon (Brewer)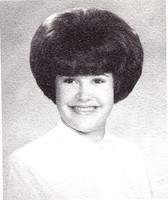 Suzanne Roberta Brewer, 66, of Billings, passed away unexpectedly but peacefully in her sleep on Oct. 18, 2015. No words can explain the loss we feel and our lives will never be the same without our sister, daughter, mother, grandmother and recently great-grandmother. She was so completely PRESENT in all of our lives.
Suzanne was born in Billings, March 4, 1949, where she attended school and graduated from Billings Senior High. Suzanne met the love of her life, Ted Brewer, at the skating rink while in high school and they married in 1967. From there they built a wonderful life together that started with three children: Nancy (Brewer) Gerbasi, Barbara (Brewer) Depasquale, and Daniel Brewer. She stayed home and raised her children with much love and commitment.
Suzanne was involved in every aspect of family life. There was never a function or event she wasn't there for. With three children, 11 grandchildren and two great-grandchildren, the number of life events she was part of is truly amazing. We liked to joke with her about the level of anxiety she would exhibit at the slight possibility of not being present during these important family events. We never worried though because she always found a way to get there no matter what the circumstance.
Suzanne "liked" a lot of things in life but she only "loved" a very few. At the top of the list was her family and a distant second was King Crab legs. She absolutely lived for her family, it was the little things she cherished the most. Her favorite things were snuggling on the couch with her grandkids, wrapped up in soft blankets watching Disney movies, screaming the loudest and hardest on the soccer field, spending hours on end at Chuck E Cheese and, most importantly, watching her children become parents of their own and then forming a unique bond with each of her grandchildren. These were the moments most important to her.
Suzanne was the support, reassurance, the best the birthday sleepover, the "I'm not your mom so it's OK," the kiss on the head, the No. 1 fan, the "how do I send this picture on my phone?" The desperate hold on to family traditions. She was the cool grandma everyone loved so much. She wasn't just a part of our lives, but every unforgettable moment in them.
We know that you're rolling around the skating rink with Dad now. We wish we could have witnessed that reunion. Words can't express how much you will be missed. Your abundance of love will last forever.
Suzanne is survived by her daughters Nancy (Brewer) Gerbasi, Barbara (Brewer) DePasquale; Son Daniel Brewer; grandchildren, Lynea (Gerbasi) Wallace, Tonisha (DePasquale) Monteith, Matias, Christian, Miquela, Tessa, Lucus, Marcos and Shaylin; great-grandchildren, Ryder, and Alexandra and her mother Virginia Scanlon. She was preceded in death by her husband Ted Brewer and father Timothy Scanlon and Brother Timothy Scanlon.