Billings Senior High School
Class of 1967
In Memory
Lorraine Roll (Mereness)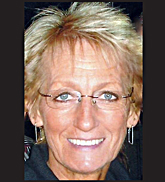 Lorraine Mereness,60, died peacefully surrounded by her husband and children Saturday, May 2, 2009, at her home in Lake Stevens after a two-year battle with cancer. She was born March 28, 1949, in Billings, Mont., daughter of Jerome and Lydia Roll. She married Dave, the love of her life for over 40 years, June 6, 1969. They had four children, Shonn, Jason, Tennille and Desirae.
Lorraine loved the simple things in life, going for nature walks, family gatherings, holidays, planting flowers and, most of all, her husband, children and grandchildren. She lived her life for and through her kids and husband.
She was preceded in death by her son Jason, her parents and brothers Mike and Leroy Roll. She is survived by her husband and three children; two grandchildren, Aidan, Ella; four step-grandchildren, Nino, Marvin, Matthew and Daniel; five Roll brothers, Eriven (Leona), Eugene, Joe (Shirley),Raymond (Karen) and Gary (Connie), all of Billings, and sister, Violet (Don) Daniels of Edmonds, Wash.
Beloved wife, mother, grandmother, sister and much more.