Billings Senior High School
Class of 1967
In Memory
Ethan Allen Roberts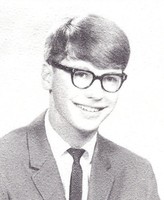 Ethan Allen Roberts "A.R." left the "Ball," Nov. 3, 2011, after a long battle with cancer.
He was born on March 31, 1949, to H.C. Bob and Jo Roberts.
A.R.'s passion for cars and motorcycles followed him throughout his life, building some of the most unique street rods and motorcycles in Billings. A.R. had a name for each and every one of them, starting with "Space Gypsy" to "The Clear Light." A.R. had some of the wildest lacquer-painted street rods around.
Ethan got the handle A.R. in the 60s from friend Moe Huges and it stuck his whole life.
A.R. had many friends over his blessed life. His two greatest accomplishments were his sons Ethan and Elijah, whom he loved more then life.
After graduating from Billings Senior High in 1967, he joined the U.S. Navy and proudly served in the Vietnam war. A.R.'s love for his fellow man cost him more than money more than once. He loved all animals as they loved him.
Ethan is survived by his two sons, Ethan and Elijah, sister Kathy and aunt Kay.
A.R.'s will to live, along with God's blessings, allowed him extra time on this "Ball."
"So many have fallen before me and now its my turn to go. I'm proud as a game rooster to have rid with ya."-E.A. Roberts.