Billings Senior High School
Class of 1967
In Memory
Jay Prestrud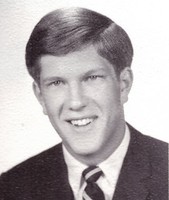 Jay Paul Prestrud died unexpectedly Dec. 2, 2012, from existing health problems while vacationing in Hawaii with his family.
Jay was born in Denver to Paul and Virginia Prestrud in 1949. Two years later, the family moved to Billings, where Jay attended McKinley Elementary, Lincoln Junior High, Billings Senior High School and Eastern Montana College. Throughout his school years he was active in track, baseball and football. It was in high school that he met Barbara McClintock, whom he spent the rest of his life with and had their daughter, Lindsey. Jay was an entrepreneur at heart and had several business endeavors throughout his life. Jay was a man with a generous heart and great sense of humor. He deeply loved his family, and had a soft spot for animals, especially his Great Dane, Lillian. His legacy will be the memories and stories he has left for us — even though he is gone, he is still making us laugh.
Jay, we were lucky to have known you. Thank you for the laughter and the love.
Jay is survived by Barbara; his daughter, Lindsey, of Portland, Ore.; sister, Judy Coddington (Bill), of Vancouver, Wash.; brother and best friend, John (Peggy), of Billings; nieces Kori Dabney (Trevin), of San Francisco, and their children McKenna, Logan and Cameron, Kati Newsome (Jonathan), of Portland, and their daughter Maggie; and his dear cousin Steve (Barb) Rogers, of Denver, and their children Michael and Colleen; and many other loved family and friends.