Billings Senior High School
Class of 1967
In Memory
Mike Padilla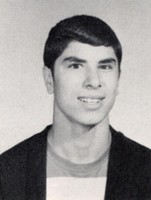 ​​​​​​Michael David Padilla is honored on Panel 51E, Row 11 of the Vietnam Veterans Memorial. Michael was interred in Mountview Cemetery, Billings, MT.
Always remembered.
POSTED ON 5/27/16 - BY ANGELA WILKS-RONNING
Almost 50 years and you are always remembered. A good man gone too soon
Semper Fi, Marine.
POSTED ON 4/20/14 - BY A MARINE, QUANG T
Remembering An American Hero
POSTED ON 3/7/14 - BY CURT CARTER CCARTER02@EARTHLINK.NET
Dear LCPL Michael David Padilla, sir

As an American, I would like to thank you for your service and for your sacrifice made on behalf of our wonderful country. The youth of today could gain much by learning of heroes such as yourself, men and women whose courage and heart can never be questioned.

With respect, Sir

Curt Carter
Class of 67
POSTED ON 4/15/08 - BY DAN RENO DRENO@HNS.COM
Classmate...You have been missed as well as remembered at all our class reunions.. 10-20-30 and this last year our 40th..

Rest in peace and thank you for what we have today.
---
Always With Us
POSTED ON 6/13/06 - BY MAJ AL NELSON MAJTANKER@COMCAST.NET
"Sleep my son, your duty done…for freedom's light has come. Sleep in the silent depths of the sea, or in your bed of hallowed sod, until you hear at dawn the low, clear reveille of God."

I finally was able to visit your gravesite on Memorial Day 2006. You will always be in my heart and prayers. Keep playing your guitar and we'll jam again sometime. Rest in peace, Bro.
Never Forgotten
POSTED ON 2/14/06 - BY BILL NELSON GRITE@YAHOO.COM
FOREVER REMEMBERED

"If you are able, save for them a place inside of you....and save one backward glance when you are leaving for the places they can no longer go.....Be not ashamed to say you loved them....
Take what they have left and what they have taught you with their dying and keep it with your own....And in that time when men decide and feel safe to call the war insane, take one moment to embrace those gentle heroes you left behind...."

Quote from a letter home by Maj. Michael Davis O'Donnell
KIA 24 March 1970. Distinguished Flying Cross: Shot down and Killed while attempting to rescue 8 fellow soldiers surrounded by attacking enemy forces.

We Nam Brothers pause to give a backward glance, and post this remembrance to you, one of the gentle heroes lost to the War in Vietnam:

Slip off that pack. Set it down by the crooked trail. Drop your steel pot alongside. Shed those magazine-ladened bandoliers away from your sweat-soaked shirt. Lay that silent weapon down and step out of the heat. Feel the soothing cool breeze right down to your soul ... and rest forever in the shade of our love, brother.

From your Nam-Band-Of-Brothers
Behind the Name
POSTED ON 12/31/05 - BY RICK DUNN RICKRICK1946@HOTMAIL.COM
Behind every name carved on The Wall is a face. Behind that face is a young life that will never grow old. With that life that was sacrificed is a family that suffered great loss. May God bless those that hold Mike's memory close to their hearts.
Not forgotten
POSTED ON 4/20/05 - BY DAVE KRUGER, 196TH LIB, 66-67
Michael, Although we never met, I just want you to know you are not forgotten. You gave the ultimate sacrifice, your life for what you believed in. Sleep well and thank you.
Thank you
POSTED ON 5/2/04 - BY AMANDA CARLS SMILEYGAL_26@YAHOOL.COM
Dear Sir,
I am a sophomore at Gridley High School where I am involved in the Gridley High School Posting Project. This assignment recognizes the patriotism in each student by giving us the opportunity to honor those who fought for America during the Vietnam War. I hope that the future generations of the United States can show a commitment to their country as great as yours. You have set a worthy example for the rest of us, and I see you as a true hero. Thank you for making the ultimate sacrifice so others could live in freedom. You will never be forgotten.