Billings Senior High School
Class of 1967
In Memory
Stan Mittlestadt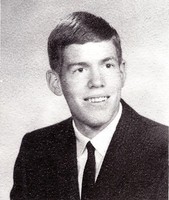 Birth; May 20, 1949
Death: September 22, 1971
Stanley Jay Mittelstadt, 22 of 245 Burlington Ave died early Wednesday at St Vincent's Hospital of head energies received early Tuesday evening in Bozeman in a fall down a stairway.
He had registered as a Sophomore in Government at Montana State University and had attended Eastern Montana Collage during the summer quarter in 1970.
Mr. Mittelstadt was born May 20,1949. A son of Ruth Mittelstadt and Vernon R Mittelstadt now of Jeffery City, Wyo.
He attended Billings Schools and was graduated from Billings Senior High School in 1967. He enlisted in the Marine Corps, and after serving in Vietnam was discharged April 23 1970. He returned to Billings.
During the summer he had been employed in Jeffery City. He had been in Billings since Sept 16 and had left for Bozeman the Tuesday morning before his death.
Mr. Mittelstadt was a member of mount Olive Lutheran Church.
Supervisors include the parents, two sisters Mrs. Larry Mitchell of Missoula and Mrs. Jo Castellano of Marion, Ill.
Michelotti – Sawyers is in charge.