Billings Senior High School
Class of 1967
In Memory
Larry Lambrecht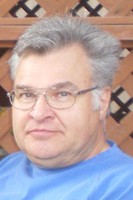 Larry Lambrecht died unexpectedly at his home on June 5, 2013.
Larry was born in Billings on June 27, 1949, the first of nine children of George and Esther Lambrecht. He graduated from Senior High in 1967. He then enlisted in the U.S. Navy and served on the Arlington and the USS Mars from 1967 to 1972.
Just last summer, he attended a reunion for the USS Mars.
Upon fulfilling his military service, Larry worked at the family-owned grocery/meat processing business, Your Food Bank, where he learned the skills of meat cutting. He subsequently worked at Midland Packing, Albertson's and Smith's grocery and most recently worked for Sweetheart Bakery.
He was preceded in death by his sister, Deborah Davis; his father and mother; and his brother, Paul Lambrecht. He is survived by Audrey Seeley (Dave) of Florence, Ed Lambrecht of Red Lodge, Tamara Weddle (Dewey) of Anacortes, Wash., Jake Lambrecht (Terri) of Laurel, Barbara Argo (Ed) of Lake Stevens, Wash., and Peter Lambrecht of Billings. Larry enjoyed getting together with the family and hearing about the happenings of his nieces and nephews Dan, John and Chris Pierce, Katie Watkins, Adam Davis, Wynter Hatzell, Lydia Weddle and Anika Argo.
A celebration of Larry's life will be held on Friday, June 14, at 2 p.m., at Michelotti Sawyers Mortuary, 1001 Alderson Ave. Interment at Mountview Cemetery with military honors will follow the celebration. If you wish, you may make a donation in his honor to a charity of choice.