Billings Senior High School
Class of 1967
In Memory
Elaine Lefor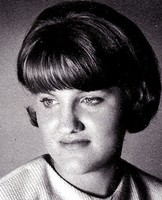 Billings Gazette Monday aug 28 1972
Elaine Lefor
Elaine M Lefor, 21 of 42 Florine, was found dead Sunday in her car in Billings.
She was born April 29 1949 at Dickson ND., a daughter of Mr and Mrs Albert Lefor. The family moved to Billings in 1954 and she was graduated from Billings Senior High in 1967 and Eastern Montana Collage in 1971. She had been working at Phiffs and Co.
She was a member of Saint Patrick's Catholic Church.
Survivors include her parents 1146 Ave C; a brother, Gary, at home and the parental grandmother Mrs. Ann Lafor, Portland Ore.
Funeral Mass will be celebrated Wednesday St Patrick's Church. Burial will be at Holey Cross Cemetery. Rosary will be said at 7:30 PM Tuesday night at Michelotti– Sawyers Mortuary.