Billings Senior High School
Class of 1967
In Memory
Phyllis Kaiser (Smith)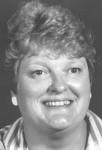 Phyllis, 59, passed away on Saturday, Sept. 13, 2008, at Billings Health & Rehabilitation Center, after a 15-month battle with Non-Hodgkin's Lymphoma.
Phyllis was born in Sheridan, Wyo., on Dec. 10, 1948, to Leo and Leonora Kaiser. Her family moved to Billings when she was very young. After high school, she worked at Deaconess Hospital as an aide and billing clerk for over 10 years. On March 15, 1980, she married the love of her life, Richard A. Smith. Together, they opened up The Lock Shop, where she worked by his side for over 20 years. Phyllis and Richard raised two daughters, Rebeka (Burdette) and Lacy. Doting on her granddaughter was what she enjoyed the most. From going to doctor's appointments, making sure that Ryver got to school and that she had what she needed for school was always a priority. Her family was always her priority.
Phyllis is survived by her loving husband, Richard; daughters Lacy Smith and Rebeka Burdette (Clint) and granddaughter Ryver; mother Leonora Kaiser; sister Cynthia Crone (Vernon) of Dover, Pa.; brother Leonard Kaiser (Barbara) of Rapelje; and her baby brother, Kenneth Kaiser (Debra) of Columbus.
Phyllis was preceded in death by her father, Leo Kaiser; father-in-law Harold Smith; mother-in-law Sylvia Smith; brother-in-law David Smith; and sister-in-law Sylvia Veis.