Billings Senior High School
Class of 1967
In Memory
Dennis Hoke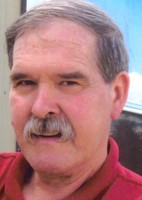 Our beloved father passed away on 5-17-13, after a long battle with cancer. His mind wanted to keep battling but his body would not let him. Dad was born in Billings on 6-2-49, the son of Roy Hoke and Lydia (Reichel) Hoke. Dad was raised in Belfry until 1955 and then moved to the Bull Mountains until 1956. Dad spent the remainder of his childhood in Lockwood where he attended school and graduated from Senior High in 1967. He immediately went to work at the Pierce Packing Plant. Dad met the love of his life Shellie Klundt and the two were married on April 3, 1970. Together they raised five kids. Dennis and Shellie were active in wrestling, football, or anything their kids were involved in. Dad's kids meant the world to him and he would always put the kid's first, even through his toughest days. His grandkids turned him into a teddy bear and he would spoil them like no other with garage sale toys and candy.
After Pierce Packing closed, dad went to school and got his degree in business at the Billings VoTech. He then assisted in the demolition of Pierce Packing and also worked for Sundown Security up until the cancer would not let him work anymore.
Dennis is survived by his three sons. Tad (Lisa) Hoke, Troy Hoke (Heather Bailey), Trever (Kristin) Hoke and his two daughters Wilda Hoke (Steve Guy), Quinta Hoke (Devin Bly). He is survived by seven grandchildren: Tad's kids, Taylor Hoke, Lainee Hoke, Trenton Hoke and Leighton Hoke who will arrive in August. Troy's daughter Alex Zyph; Trever's kid's, Garet Hoke and Ainslie Hoke. He is also survived by his brother, Richard Hoke and his wife Gerri. Dennis is preceded in death by his father Roy and his mother Lydia; his wife Shellie and his son Wilmer and grandson Johnathan.
We would like to thank all the care and support that was given to our dad at the Frontier Cancer Center. Also Thank you to Kevin and Beth and the Outpatient Center, dad loved his water aerobics and the friends he made there. Thank you to the Hospice House Nurses for all your support for dad at the end.