Billings Senior High School
Class of 1967
In Memory
Denyta Gauger (McFarren)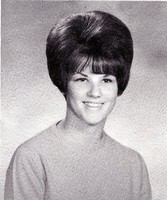 Denyta Rae McFarren, 63, of Billings, passed away Monday, March 11, 2013, at Billings Clinic after a brief illness.
She was born on July 3, 1949, in Billings, Mont., the daughter of Manly and Olga Gauger. She was raised in Billings and attended Billings Senior High School. She was the youngest of five children.
On Jan. 7, 1967, she married her best friend and soul mate, Donald McFarren. Together they had three wonderful children: Tony, Luke and Lacee.
Denyta was a very caring and hardworking lady. Her family always looked forward to her home-cooked meals. She loved her McDonald's family and the many friends and lasting relationships she made there. She was very proud of her success with McDonald's, starting out as a part-time hostess, working her way up to store manager.
Denyta enjoyed their many family camping trips, crocheting and her many wonderful trips to Walt Disney World with Don.
Denyta was preceded in death by her parents, Manly and Olga Gauger; brother Dwight Gauger; sister Donna Roberts; father- and mother-in-law Carl and Isabelle McFarren; and daughter Lacee McFarren.
She is survived by her husband, Don; sons Tony McFarren and Luke (Lisa) McFarren; three grandchildren, Conner, Maya and Taylore; sister Darlene Sparrow; brother Dwayne Gauger; and many friends.