Billings Senior High School
Class of 1967
In Memory
Kennie Evig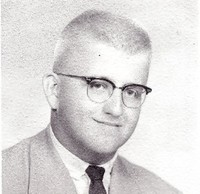 As a member of Billings Pentecostals, Ken Evig went home to be with Jesus, having passed away at home June 18, 2009.
Ken was born July 15, 1945. He is survived by a sister, Phyllis Ruth Evig; a brother, John Leonard Evig; two nephews, Ross and Darren Evig; two great-nieces and two great-nephews.
He is a 1967 Billings Senior High graduate. After school, he went and graduated from the Apostolic Bible Institute in St. Paul, Minn. Ken enjoyed sports, but the most important element in his life was church; it was his life.
During his last few weeks with us, his time was spent reading his Bible and singing church chorus and songs from his Lazyboy chair and in bed. He truly is in a better place. We will miss you!