Billings Senior High School
Class of 1967
In Memory
Carol Eastlick (Woods)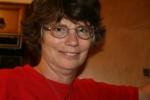 Carol Joy Woods, 59 years of age, passed away on Sunday, March 1, 2009, in Billings.
Carol was born on June 30, 1949, in Billings, to Ella and Harlan Eastlick. She graduated from Billings Senior High School and subsequently graduated from Vocational Technical School, then became licensed as a practical nurse in Bozeman. Since then, she has worked at St. Patrick's Community Hospital in Butte, in private practice in Billings, and most recently at Billings Clinic.
In September 1968, she wed Glen Dale Woods and they soon relocated from Butte to Billings. Only a few years later, they were blessed with the first of their three children. In addition, Carol and Glen took in more than a dozen foster children over the years.
Carol was preceded in death by her mother, Ella Eastlick of Billings. She is survived by her husband, Glen of Billings; father Harlan Eastlick; brother Scott Eastlick; sister Beth Eastlick and brother-in-law, Tom Ferraro of Raleigh, N.C.; son Brian (Jennifer) Woods and their children, Connor, McLain and Gavin; son Kevin (Lisa) Woods and their son Alexander; daughter Megan Woods and her friend Kirk Ruby; nieces Monica and Robin (Scott's daughters) and Dani (Beth's daughter); and nephews Tom (Scott's son) and Tony (Beth's son); and her good friends Elsie Zickuhr of Billings and D'Arlyn Bauer of Mandan, N.D.
Carol will be remembered as a woman of rare wit and grace. She was willing to give of herself to those around her, be her family, friends (furry or otherwise) or merely someone of need. Her love of life spilled over to all who knew her. She was a model for respect, kindness and service to others