Billings Senior High School
Class of 1967
In Memory
Craig Butler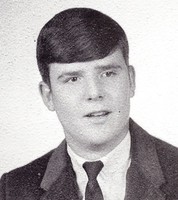 Craig Bruce "CB" Butler, 55, died Oct. 26, 2004, at Sage Towers.
He was born in Minneapolis, Minn., on July 30, 1949, the son of Richard and Alice Butler, and moved to Billings in 1956. Craig graduated from Billings Senior High School in 1967 and attended Eastern Montana College and Rocky Mountain College. He and his sister, Bonnie, drove the Alaskan Highway in 1975, and both worked on the Alaska pipeline when it was first being built. Craig returned to Montana and lived in Bridger from 1988-1995, where his daughter Jillyan was born. He was a Teamster truck driver until he sustained injuries.
Craig loved the outdoors, hunting, fishing and his dogs. He was an avid reader of books, especially history and autobiographies.
Survivors include his daughter, Jillyan Robin Butler of Bridger; his mother of Billings; his sister, Bonnie Butler Novaky, his nephew, Kyle, of Cave Creek, Ariz.; his sister, Jane Alice (Bob) von Birgelen, his niece, Janelle, and his nephew, Keenan, all of Anchorage, Alaska.