Billings Senior High School
Class of 1967
In Memory
Cliff Bernhardt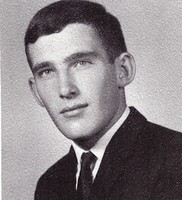 Clifford L. Bernhardt and his wife, Linda, both 24, of 1116 Dorothy Lane, Billings Heights, were found dead in their home on Wednesday, Nov 6, 1973, the victims of a double homicide.
Clifford was born June 1, 1949 the son of Loveen and Eva (Sikora) Bernhardt
He attended vocational training school in Denver before entering the Army in June of 1969.
He married Linda Dianne Reich June 7, 1969 in Billings. After their marriage they lived in Washington and Georgia.
He served in Vietnam and Cambodia with the 1st Calvary Division and was discharged in March 1971 as a Sergeant.
He was a member of Pilgrim Congregational Church and also a member of the VFW.
The murders are solved 45 years later:
https://billingsgazette.com/news/state-and-regional/crime-and-courts/year-old-billings-heights-double-homicide-solved-sheriff-says/article_f4f04035-2f2b-518e-bf3f-bfe36b1a3d26.html