Billings Senior High School
Class of 1967
In Memory
James Bankston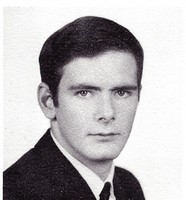 SAN JOSE, Calif. — James David Bankston, 56, passed away Sunday, Jan. 9, 2005, at his home.
James was born to Cleo and Leo Bankston on Sept. 16, 1948, in Seattle, Wash. He moved to Billings, Mont. in 1956, where he attended schools and graduated from Billings Senior High in 1967. James joined the U.S. Marine Corps and served a tour in Viet Nam, receiving a Navy and Marine Corps Commendation Medal and a Purple Heart. Returning from the service, James married Kris Kepler and lived in Billings with their daughter, Ralee Marie. They were divorced and he worked in Billings as an ironworker and later as a house painter. After being diagnosed with Multiple Sclerosis, he moved to San Jose to receive needed medical treatment through VA. James continued to be involved with the San Jose Veterans Center and pursued his lifelong interest in computer science attending classes at DeAnza College.
To my Best Friend Jimmy,
I miss you SO much. We had a lot of good times together. I miss your visits. I miss your phone calls. I miss you.
You were and are very special to me. I pray to see you on the other side.
I love you Jimmy,
Bonnie Raitt (Lindell, Wright)