Billings Senior High School
Class of 1967
In Memory
David Albin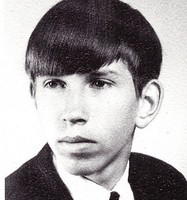 David Jon Albin passed away Jan. 19, 2009, at his home. He was 59 years old. David was born March 9, 1949, in Billings, to John and Andrea Albin. He was the oldest of four children.
David graduated Billings Senior High School and spent many of his working years in the oil and trucking industries. He had a love for cooking and enjoyed fishing and hunting trips.
On Jan. 14, 1984, David married Candice Sue Emmons. To this union a daughter, Andrea, blessed their lives.
Candice Sue Emmons-Albin passed away Sept. 2, 2008, in the comfort of her home, after battling cancer. She was 55 years old. Candice was born Sept. 12, 1952, in Billings, to Raymond and Irene Emmons. She was the youngest of four children.