Billings Senior High School
Class of 1967
In Memory
John Woodenlegs Jr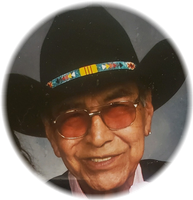 February 13, 1948 – April 24, 2020
"Little Eagle," Netse OxhaahKeta" John Joseph Wooden Legs was born 2-13-1948 in Crow Agency, to John and Cecilia Wooden Legs, the youngest of 9 children.
He is a Veteran of the Vietnam War. He served 3 terms, 67-68-69-70'. He was honorably discharged September 1970. He was part of 577th Engineering Battalion, United States army-engineering/Mac-V, Special Forces. He was close to the men in his company, they were life- long friends, Pancake, Toni, Bob Ward, Cunningham & Pete. John earned 3 Bronze Stars. His record still stands as posting the highest score ever recorded in basic training combat proficiency in Company E, 4th Battalion, 3rd Brigade at Ft. Lewis, he ran the mile in full uniform and combat gear in 5:34. He earned National Defense Service Medal, Honorable Discharge Medal and Vietnam Service
John Joseph Wooden Legs, Chief Descendent age 72 passed away in his sleep on April 24th, 2020
He grew up in Lame Deer Montana, As a child, he rode horses, attended school in St. Labre and then Billings Senior High School, where he was known for his basketball skills. He was active in the Native American Church, which he was able to use his whole life, eventually his faith in Maheo helped him stop drinking and that decision led his life in a different direction. He turned his life over and did to the best of his abilities to help his people in all aspects. He worked in many fields, truck driving, running his own business, Wooden Legs Construction. He is one of the founders of the Morning Star Chapter of Vietnam Veterans, He always had time to visit with the military men of the tribe. Then he turned his vision to Tribal Government and Education. He served from 1982 to 2004, in the capacities of Council Member, Acting President, and Vice-President. He served on Chief Dull Knife Memorial college board for 24 years, he received his Honorary Associates Degree from there also. He worked with many different people and organizations from all over the world. He was really involved with Lion Eye Bank. He always took the time out, day or night to speak and help people. He took this to be his duties as a leader and Chief. His people were important. He loved to drive to Bear Butte and visit one of his favorite places, Deadwood. He listened to Peyote music and visited with various people, always laughing and sharing stories with his brothers and friends. He was known to many as simply 'Uncle Johnny".
After the war, he returned home, met and married Janet, whom Jacque and Jona were born, he worked in Cody Wy, that marriage soon dissolved and he returned to Montana where he then met and married Abby, whom Darlene, JoVon, Terri, Jennifer were born of this union. This marriage dissolved also, and he met and married Judy, whom Shawna and Josette were born. They were together for 15 years and that marriage ended. His saving grace were all his grandchildren whom he devoted all his attention to. He especially enjoyed time with Ransom, Katelynn, John-John, Baby Willie, Mosiah SG, Darryl MB, Michael W.W and George WL. The 2 he doted on were Shawna and Jesse's daughters, Kira and Scarlett Joe, whom he adopted as his daughters.
He is preceded in death by both of his parents, John and Cecelia, His sisters, Therese, Darlene, Zethel, His brothers, Patrick, Harvey, John JR., Max, Russell De Venerio, His daughter Terri Rose, and his grandson, James Richard
John is survived by his 7 children, Jacque, Jona, Darlene, JoVon (Clare), Jennifer, Shawna (Jesse), Josette (Robert) and his adopted daughters, Kira and Scarlett., Perrine Wettstein and DaWanda Little Coyote. He adopted the late Burt and Ellen Medicine Bull's Children, Setovaatse, Willis, Kenneth, Charles, Rennette, Doris and Alaina, as his own. His last remaining sister, Rosie Doyle, and he called Thomasine, his little sister, Charlene Alden, Joe and all the Waters Family. His Brother's Everette Whitewolf and Henry Bright Wings. He was close to his Aunt Mabel's children. Also, Gilbert Brady was as close as a brother to him and they had many adventures together. He has 15 grandchildren, Rhoan , Rhett, Theron, Bryce, Taya, George, GaVin, Jordyn, Felicia, Kirby, Tucker, Hooray, Ransom, Marie, Harvey and one Great-grandson, Xavier James. He has many nieces and nephews. His extended family are Little Eagle, White Wolf, Waters, Small, Kellum's, Bright Wings, Big Man, Lone Bear, Sooktis, Doyle, One Bear, Rowland, Dreamer, Birdinground, Seminoles, Florez, Shoulderblade, Two Bulls from SD and extended family. We apologize to anyone left out; his family is exceptionally large.