Billings Senior High School
Class of 1967
In Memory
Judy Lecount (Parker)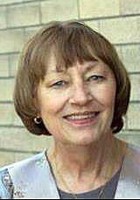 Judith D. (LeCount) Parker, aged 67, passed from life surrounded by her family Wednesday Jan. 18, 2017 in Billings.
Judy was born June 30, 1949, to Finley E. and Lorane M. (Kuhr) LeCount in Billings. As an infant Judy was so small that she was carried on a pillow. Her sister Sally recalls that Judy had her own language until she went to school. Her brother "Bill" liked to tease his sisters to everyone's amusement. Both her siblings survive her. Her father passed in 1960 and her mother in 1975. Judy graduated Billings Senior High in 1967. Judy moved to Denver for vocational education at Denver School of Business. Judy's careers included managing rental car locations and for over 25 years coding Medical Records at St. Vincent's Hospital.
In 1972, Judy went shopping for a bicycle and found her mate and partner Alan V. Parker. They were married Aug. 1, 1976. Their union was blessed with two sons, Brian L. 1977 (Cameron) and Nicholas P. 1984 (Ashley). Judy cherished each of her grandchildren: Anika, Callan, Declan, Mason, Jenessa, and Jerimiah.
A celebration of Judy's life will take place on her birthday June 30, 2017. Judy's family thanks the entire staff of Billings Clinic for their support and care during her last days.
A poem wriiten by Judy Lecount:
For a while the air of my mind is quiet,

Then someone flips a switch

And the sting returns:

Try to think, try to think.

Try harder, try harder.