Billings Senior High School
Class of 1967
In Memory
Lee Kraft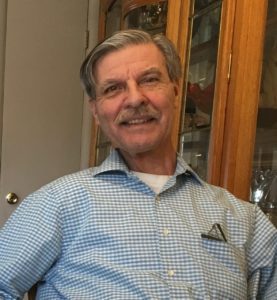 Lionel "Lee" Kraft, 70, of Billings, MT, passed away Monday morning, January 13, 2020. He was born September 10, 1949 to Don and Irene Kraft. He was married to the love of his life, Darlene. They were married 49 years, had two children Lee Jr. (wife Shelly) and Robin, two grandchildren Riley and Hailie, and four brothers Donald, Ron, Kirk and Dennis.
Lee was one to never quit. He was born premature and developed cancer at age 20. No matter what physical challenge, he was one to overcome. He always found a way to succeed, whether teaching with voice challenges, or coaching baseball, fishing with one arm, or painting and roofing houses in the summer! Lee graduated high school from Senior High and got his bachelor's degree from Eastern Montana College in 1972. He taught math for 36 years at EMC and Huntley Project. Teaching was one of his life's passions, as he enjoyed watching kids learn, and deeply loved all children. They always knew Mr. Kraft was there for them, whether it was for math or any situation in life. In retirement, he would often go to Walmart or any store to shop, and there would always be an old student approach with a big hug and thanks for being there for them.
After 36 years, Lee retired to spend time with his love, Darlene. They enjoyed every moment being together, and spent their time in complete happiness. You could find them in nature taking pictures, walking Lake Elmo or searching the rivers for eagles, deer, swans, and other wildlife. They enjoyed fishing, and taking local trips to Red Lodge and Bozeman. One of their favorite activities was going out to eat and spending time with their daughter Robin. They often went to festivals, galleries, and Sunday lunch together. They were the three amigos. Lee and Darlene loved visiting and spoiling their grandkids most of all. They visited Utah several times a year, including annually for Christmas, and welcomed several weeks every summer together. They often facetimed, and grandpa and grandma watched their events live or by streaming video. They never missed an opportunity to support their family.
Lee had many hobbies that he enjoyed. He continued to teach math, but mostly to his grandkids. It was one of his weekly highlights and theirs. They spent time every week over facetime, first with Riley for about 6 years, and then Hailie for the last 5 years. This was such a special time for all of them. Lee also pursued his love of art and poetry. He became an avid photographer, which he framed and also gave as cherished gifts. He even got published in the Billings Gazette, and thanked by the secretary of the Queen of England for his white swans. A sample can be viewed at www.LandDPicks.net . Lee was also a Christian poet. He wrote poems weekly for years, and gave books of poems to his family and friends. Enjoy his poetry at www.LionelsChristianPoetry.Blogspot.com . Lee loved his family, Montana, and longed for Billings to know God. He started the Prayer for Billings movement and hoped to one day see all the churches in Billings unite frequently to hold hands on the rims as they pray over the city, for God to "Pour out your Spirit over Billings"
Lee was known for his kindness, generosity, and love for all. We celebrate his life with joy, memories, laugher, and togetherness. We are thankful for his example of goodness, and impact to his family, friends, and community. Thank you and love you "LLCoolK".
The Funeral will be held on Saturday, January 18th at Faith Chapel, 517 Shiloh Rd, at 10:00 AM.