Billings Senior High School
Class of 1967
In Memory
Lyle Forrester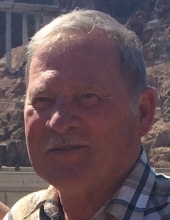 Lyle Howard Forrester, 70, passed away Saturday, September 28, 2019 surrounded by his family, friends and the love of his life, his wife Sammi. He passed after having suffered fatal injuries in a tragic truck accident. He was one of six children, born March 20, 1934, to Olin Beltan Forrester and Nina June Bohn Forrester.
Lyle was a very loving, compassionate, and considerate man and he touched many lives. He spent his entire life in Billings, where he grew up enjoying motorcycles, trucks, snowmobiling, and hunting, and making many lifelong friendships along the way. He served his country in the Air Force in both Viet Nam and Thailand.
Later in life he got interested in four wheeling and joined Treasure State ATV Association where he made many more friends. Lyle met the woman who was later to become his wife in 1995. Their life together was filled with love, friendship and adventure.
Lyle is survived by his wife Sammi; four siblings Kent, Gary, Janet and Bonnie; Guy Miyagishama, who was like a son to him; many nieces, nephews, cousins and all his loving lifelong friends.
A Celebration of Life for Lyle will be held at the Elks Club in Billings on Saturday, October 12, at 4:00 pm. Luncheon will be served and we encourage everyone to share their memories, funny stories and experiences they had with Lyle.