Billings Senior High School
Class of 1967
In Memory
Ron Baker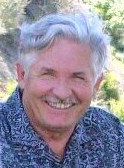 MISSOULA — Ronald Bruce Baker, 64, of Missoula, originally of Lockwood, set his spirit free from his worldly vessel on Sunday, April 6, 2014. He was surrounded by his devoted family at St. Patrick Hospital in Missoula. He left this life after giving each of his loved ones a chance to say a final goodbye.
Ron was a native Montanan, born at the Big Horn Community Hospital in Hardin on July 29, 1949, to Elizabeth "Betty" Jean Veitch and Robert Arthur Baker of Lodge Grass. Ron attended Billings Senior High and graduated in 1967. They got married in a candlelight vigil on Dec. 18, 1976, in Laurel. In 1977, they had a son, Christopher Alex, at St. Vincent's Hospital in Billings. Chris was determined to arrive early, with Shirley's water breaking just after Ron had competed for his brown belt in Tae Kwon Do. Ron and Shirley moved Chris to Bozeman in the autumn of 1977 to finish their education at Montana State University. In 1981, they had a daughter, Lyndsey Robyn, at their home on Fox Street on the university campus. It was always a joke, later in her college years, that they had had a Bobcat who lived in Griz country. In 1981, Ron received the MSU Art Scholarship, and in 1982 he was honored with the Worthy Student Scholarship.
Ron graduated with honors from Montana State University in 1984, receiving his Bachelor of Fine Arts degree.
The family feels blessed to have had Ron in their lives, and lucky to have been able to celebrate life with him every day. They now rejoice in the memories and cherish the life lessons that he always gave to them freely. The family wishes to give special thanks to Zach White for the care he provided.
Ron is survived by his wife of 37 years, Shirley Ryder Baker; his children, Christopher and Lyndsey Baker; his brothers, Tom (Linda, Cala, Lisa), Steve (Darlene) and Dave Baker; and his "son'' Chris Lance (Nicholas, Andrew and Ari).